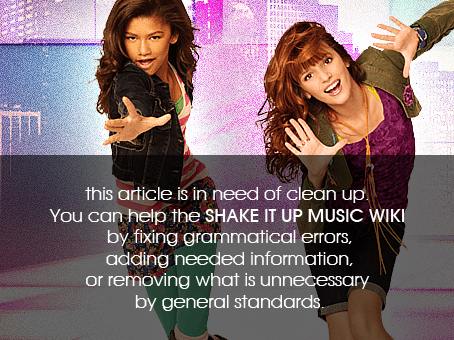 Shake It Up: I <3 Dance (also stylized as "I ♥ Dance", but pronunced "I heart dance") is the name of the third soundtrack of Shake It Up. It released on the 23rd of February, 2013 on the Radio Disney Planet Premiere, and on March 5th on iTunes and Amazon.
Track listing
Edit
No.
Title
Writer(s)
Length
1.
"Contagious Love" (Bella Thorne & Zendaya)
Lambert Waldrip, Miranda R. Johnson and Anya Vasilenko
2:15
2.
"This Is My Dance Floor" (Bella Thorne & Zendaya)

Jeannie Lurie, Aris Archontis, Chen Neeman

3:07
3.
"Beat of My Drum" (Zendaya)

Jay L' Oreal, James J, Abrabart, Melvin Hough and Revelino R. Wouter

3:16
4.
"Blow the System" (Bella Thorne)

David Dawood, Natalia Hajjara, Darryl Connell and Philippe-Marc Anquetil

3:30
5.
"Afterparty" (Caroline Sunshine & Roshon Fegan)
Scott Krippayne and Bardur Haberg
3:43
6.
"Holla at the DJ (The DJ Mike D Remix)" (Coco Jones)
Lashawn Daniels, Brian Kennedy, Makeba Riddick
3:25
7.
"These Boots Are Made for Walkin'" (Olivia Holt)
Lee Hazlewood
2:22
8.
"Sharp as a Razor " (McClain Sisters)
Niclas Molinder, Joacim Persson, Johan Alkenas and Charlie Mason
3:15
9.
"Future Sounds Like Us" (Dove Cameron)
Bardur Haberg, Oli Jogvansson, Michelle Lewis and Heidi Rojas
2:57
10.
"I Can Do Better" (Young LA)
Antonina Armato, Tim James, Thomas Armato and Adam Schmalholz

Tim James, Adam Smeaton, IN-Q

3:34
11.
"Shake It Up Theme Song (Cole Plante Reboot Remix)" (Selena Gomez)
Jeannie Lurie, Aris Archonitis, Chen Neeman
3:32
12.
"We're Dancing (Alex Ghenea 3.0 Remix)" (Bridgit Mendler)

Bridgit Mendler, Josh Alexander and Billy Steinberg

3:31
| No.  | Title | Writer(s)                                           Length | |
| --- | --- | --- | --- |
| | **Tracklist coming soon** | | |
| | | | |
Target Exclusive bonus tracks
No. 
Title
Writer(s)                                           Length
13.
Law of Averages (Nevermind)
It is the first time that an album includes a Roshon Fegan song.
The first single from the soundtrack will be "Contagious Love" by Bella Thorne and Zendaya and will be released on February 19th. And the second single will be "This Is My Dance Floor" by Bella Throne and Zendaya.
Tim James and Antonina Armato confirmed that "Law of Averages" along with another upcoming song written/produced by them will be featured on the upcoming "Shake It Up: I <3 Dance" soundtracks deluxe edition of the album.
Walmart and Target is releasing an exclusive version of the album.
Bella Thorne stated that their new music would be more edgy as they are growing up.
It was confirmed that "Contagious Love" was originally recorded by Coco Jones, and then later rerecorded by Zendaya and Bella Thorne.
Zendaya's favourite song of hers on the album is Beat Of My Drum because she believes it is a lot like the style music she would record out of Disney.