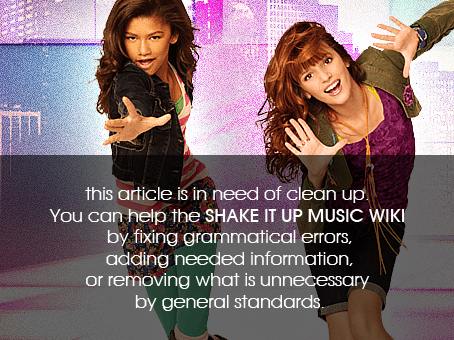 Shake It Up: Live 2 Dance is the second soundtrack for the Disney Channel Original Series Shake It Up. It was released on Saturday 17th March at 4 PT / 7 ET on a Radio Disney Planet Premiere hosted by Bella Thorne and it was released on iTunes on March 20, 2012.
The iTunes/Amazon deluxe edition contains two bonus tracks, the Target exclusive version contains three dif
ferent bonus tracks and the Walmart exclusive contrains five different songs, including three songs from Shake It Up: Made In Japan.
The lead single, "Up, Up, and Away" performed by Blush, was released on February 14, 2012. The second and third singles, TTYLXOX (by Bella Thorne) and Something to Dance For (by Zendaya), were both released March 6, 2012 on iTunes.
Track listing
Edit
No.
Title
Writer(s)
Length
1.
"Whodunit" (Adam Hicks & Coco Jones)

Lambert Waldrip, Justin Mobley, Anya Vasilenko

2:20
2.
"TTYLXOX" (Bella Thorne)

Jeannie Lurie, Aris Archontis, Chen Neeman

2:33
3.
"Something to Dance For" (Zendaya)

Lurie, Archontis, Neeman

2:41
4.
"Up, Up, and Away" (Blush)
Niclas Molinder, Joacim Persson, Jacqueline M. Cumming, Johan Alkenas, Blush
3:01
5.
"Show Ya How" (Adam Irigoyen & Kenton Duty)

Ben Charles,

Max Schneider
2:21
6.
"Make Your Mark" (Drew Ryan Scott)
Molinder, Persson, Alkenas, Drew Ryan Scott
3:37
7.
"Don't Push Me" (Coco Jones)
Ben Charles
2:40
8.
"Turn It On" (Amber Lily)
Ben Charles, Tony Ghantous, Amber Lily Solberg
2:37
9.
"Moves Like Magic" (Adam Trent)
Lurie, Archontis, Neeman
2:50
10.
"Critical" (TKO & Nevermind)
Antonina Armato, Tim James, Devrim Karaoglu, Nevermind
3:02
11.
"Bring the Fire" (Ylwa)

Molinder, Persson, Jonas Thander, Scott

3:03
12.
"Where's the Party" (Jenilee Reyes)
Mitch Allan

, Kevin Kadish, Eva Simons

2:56
13.
"Surprise" (TKO, Nevermind, SOS)
Armato, James, Jon Vella, Thomas Armato Sturges, Nevermind
2:58
14.
"Something to Dance For/TTYLXOX (Mash-Up)" (Zendaya & Bella Thorne)

Lurie, Archontis, Neeman

2:44
Deluxe Edition bonus tracks
No.
Title
Writer(s)
Length
15.
"Edge of the Mirror" (Emme Rose)
Ben Charles, Aaron Harmon, Jim Wes
2:48
16.
"Total Access" (TKO, Nevermind, SOS)
Armato, James, Vella, Sturges, Nevermind
3:02